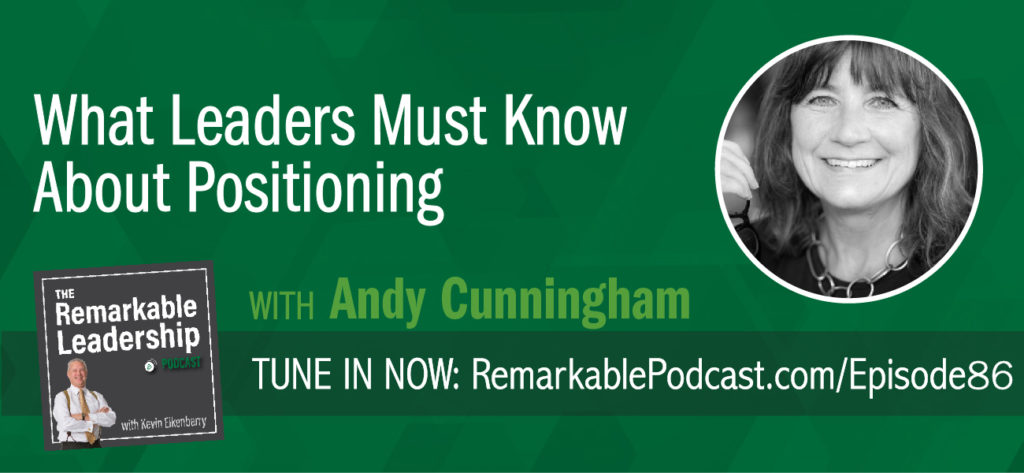 Andy Cunningham knows that positioning is more than just a marketing term, it is the formulation of a business strategy. Andy is the author of Get to Aha! Discover Your Positioning DNA and Dominate Your Competition and shares the framework she uses to transform markets and industries. Regardless of your title within the organization, you need to understand your company's DNA to create alignment and clarity within your team.
In this episode, Andy:
Defines positioning.
Share 3 kinds of positioning DNA.
Shares how to take a personal position.

Remarkable Dialogue
Ask yourself: Do you know the DNA of your organization?
Leave your answer in the comments below.
Additional Leadership Resources
Subscribe to the Podcast
Don't miss an episode! Subscribe to this podcast through the options below.
Leave a Review
If you liked this conversation, we'd be thrilled if you'd let others know by leaving a review on Apple Podcasts. Here's a quick guide for posting a review.

Join Our Facebook Group
Join our Facebook community to network with like-minded leaders, ask us questions, suggest guests and more. We welcome your wealth of experience and hope you will join us in sharing it with others on their leadership journey.
You can join the group here: facebook.com/groups/RemarkableLeadershipPodcast/