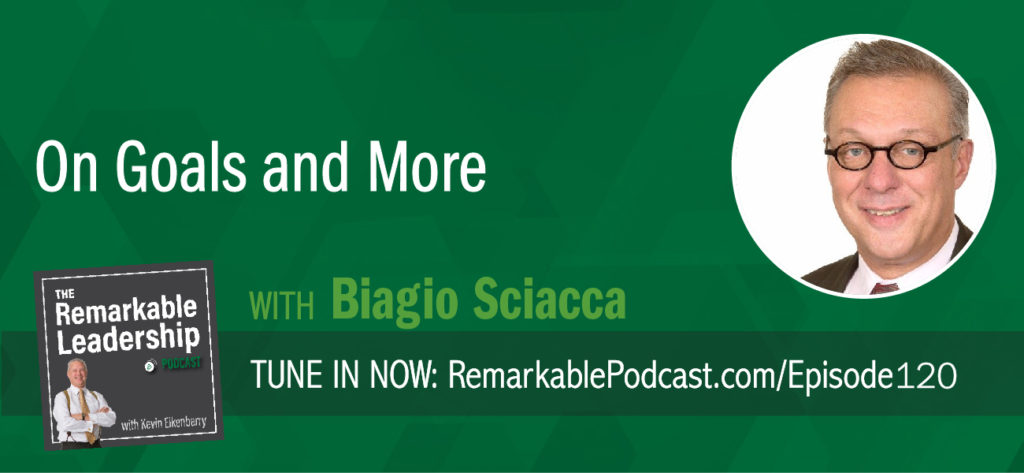 Goals and goal setting. Much has been written about this topic; from importance to how to write the tasks and action items. Biagio 'Bill' Sciacca is the author of Goals Book: Embracing Personal Responsibility in an Age of Entitlement. Biagio not only does consulting, he has taught at the university level since 1982, and, recently, took a full-time academic post at Penn State University, where he lectures in Micro and Macro Economics, Marketing, Leadership, Strategic Management and Interpersonal Skills in Business. His first attempt at the book resulted in a lot of blank pages, where the reader was supposed to fill in their goals. He realized that this might not be helpful and takes a different approach to goal setting and encourages us to think about habit formation.
In this episode, Bill discusses 1. His thoughts on goals and persistent goal setting. 2. Attributes of high-octane leaders.

Remarkable Dialogue
Ask yourself: Do you set time aside to plan goals?
Leave your answer in the comments below.
Additional Leadership Resources
Subscribe to the Podcast
Don't miss an episode! Subscribe to this podcast through the options below.
Leave a Review
If you liked this conversation, we'd be thrilled if you'd let others know by leaving a review on Apple Podcasts. Here's a quick guide for posting a review.

Join Our Facebook Group
Join our Facebook community to network with like-minded leaders, ask us questions, suggest guests and more. We welcome your wealth of experience and hope you will join us in sharing it with others on their leadership journey.
You can join the group here: facebook.com/groups/RemarkableLeadershipPodcast/