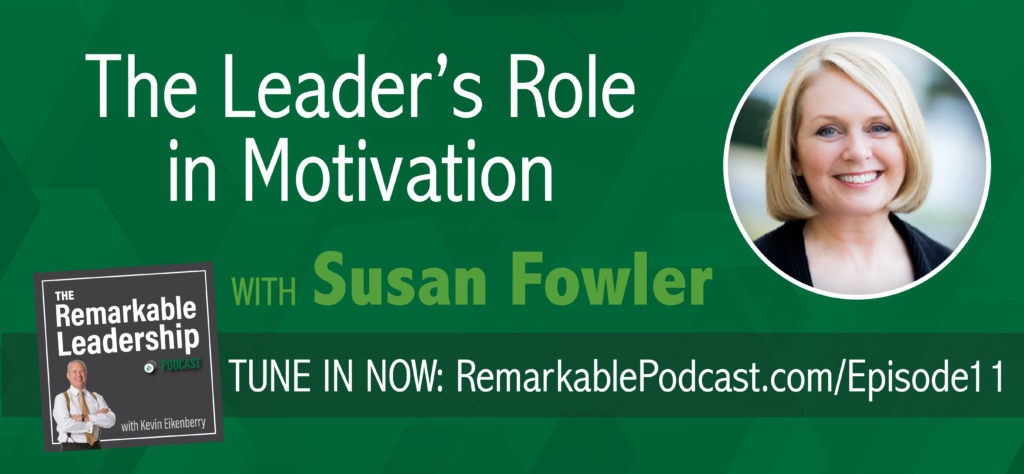 In today's episode, I'm talking with Susan Fowler, who is the author of various by-lined articles, peer-reviewed research, and six books, including the bestselling Self Leadership and the One Minute Manager with Ken Blanchard. In her new best-seller, Why Motivating People Doesn't Work…and What Does, she applies psychological discoveries that lay out a successful, research-based model and course of action to assist leaders as they guide their people towards the kinds of motivation that results in increased productivity and engagement, as well as a profound sense of purpose. If you're tired of unsuccessful attempts to drive your team towards increased motivation, you won't want to miss this powerful, insightful episode!
Listen to the Audio
In this episode, you'll discover:
What the "Motivational Dilemma" is — and why leaders are shocked (and relieved) after they realize this concept
The different types of motivational outlooks, and why leaders should begin using the "Optimal Motivation" process for their team in order to produce successful results
How leaders can help their team find their own personal motivational outlooks during change initiatives and/or projects
"Don't assume your values are the same as those you lead."

– Susan Fowler
Remarkable Dialogue
Let's get the conversation started with a question that Susan mentions in today's episode:
"When it comes to facilitating new projects or change initiatives, how can you — as a leader — connect organizational values with your team's own personal values?"
Leave your answer in the comments below.
Additional Leadership Resources
Subscribe to the Podcast
Don't miss an episode! Subscribe to this podcast through the options below.
Leave a Review
If you liked this conversation, we'd be thrilled if you'd let others know by leaving a review on Apple Podcasts. Here's a quick guide for posting a review.

Join Our Facebook Group
Join our Facebook community to network with like-minded leaders, ask us questions, suggest guests and more. We welcome your wealth of experience and hope you will join us in sharing it with others on their leadership journey.
You can join the group here: facebook.com/groups/RemarkableLeadershipPodcast/