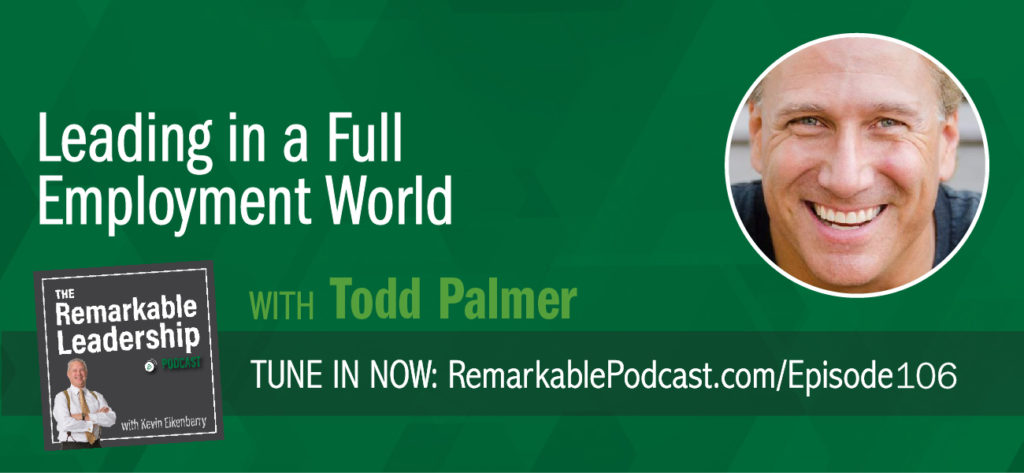 Statistics show that we spend more time with the people we work with than we do with our family. Todd Palmer, CEO of Extraordinary Advisors and author of The Job Search Process: Find & Land a Great Job in 6 Weeks or Less, discusses servant leadership and taking care of those that take care of you. He tells Kevin that there are fewer people working than 40 years ago, yet not enough people for jobs. Leaders need to be thinking about their talent search and the opportunities their companies offer. Todd also offers a bonus to listeners of the Remarkable Leadership Podcast
In this episode, Todd shares his thoughts about:
Decision making.
Searching for talent.
Raising retention rates.
Remarkable Dialogue
Ask yourself: What is your team's ice-cream cake?
Leave your answer in the comments below.
Additional Leadership Resources
Subscribe to the Podcast
Don't miss an episode! Subscribe to this podcast through the options below.
Leave a Review
If you liked this conversation, we'd be thrilled if you'd let others know by leaving a review on Apple Podcasts. Here's a quick guide for posting a review.

Join Our Facebook Group
Join our Facebook community to network with like-minded leaders, ask us questions, suggest guests and more. We welcome your wealth of experience and hope you will join us in sharing it with others on their leadership journey.
You can join the group here: facebook.com/groups/RemarkableLeadershipPodcast/