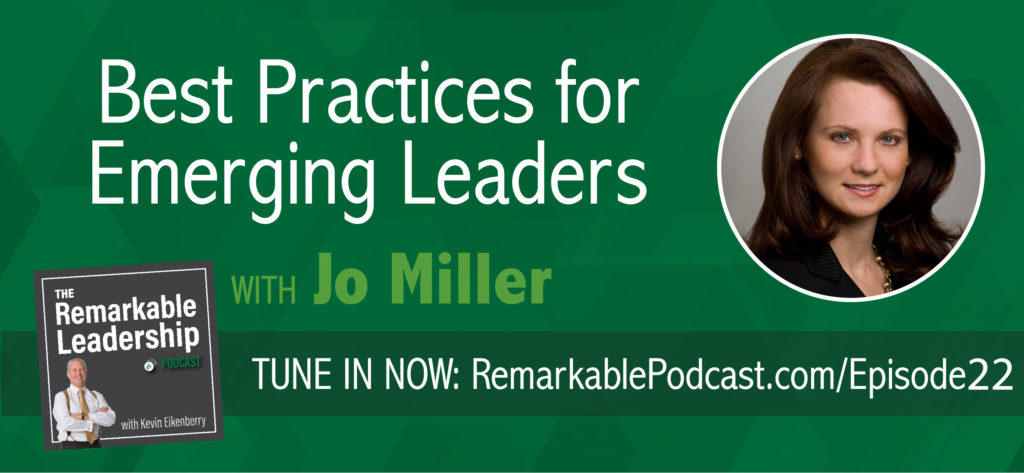 Are you the best-kept secret in your organization? What does it take to be recognized as an emerging leader? In today's episode of the Remarkable Leadership podcast, CEO of Women's Leadership Coaching, Inc., Inc., founding editor of Be Leaderly, and author of the upcoming book, "She's Got Clout: How to Become A Rising Woman of Influence," Jo Miller offers innovative tips and techniques that every up-and-coming leader needs to be successful and influential in any organization!"
Listen Now
In this episode, you'll discover:
Finding your "Sweet Spots" and applying them to increase your visibility in an organization.
How a sponsor differs from a mentor, and why it matters for leaders.
Best practices and tips for up and coming leaders that highlight your organizational role.
Discover what brought you to where you are, and use those strengths to further your career journey.

– Jo Miller
Remarkable Dialogue
Ask yourself: Where does your "Sweet Spot" fit in the organization so you can fill an ideal need?
Leave your answer in the comments below.
Additional Leadership Resources
Subscribe to the Podcast
Don't miss an episode! Subscribe to this podcast through the options below.
Leave a Review
If you liked this conversation, we'd be thrilled if you'd let others know by leaving a review on Apple Podcasts. Here's a quick guide for posting a review.

Join Our Facebook Group
Join our Facebook community to network with like-minded leaders, ask us questions, suggest guests and more. We welcome your wealth of experience and hope you will join us in sharing it with others on their leadership journey.
You can join the group here: facebook.com/groups/RemarkableLeadershipPodcast/