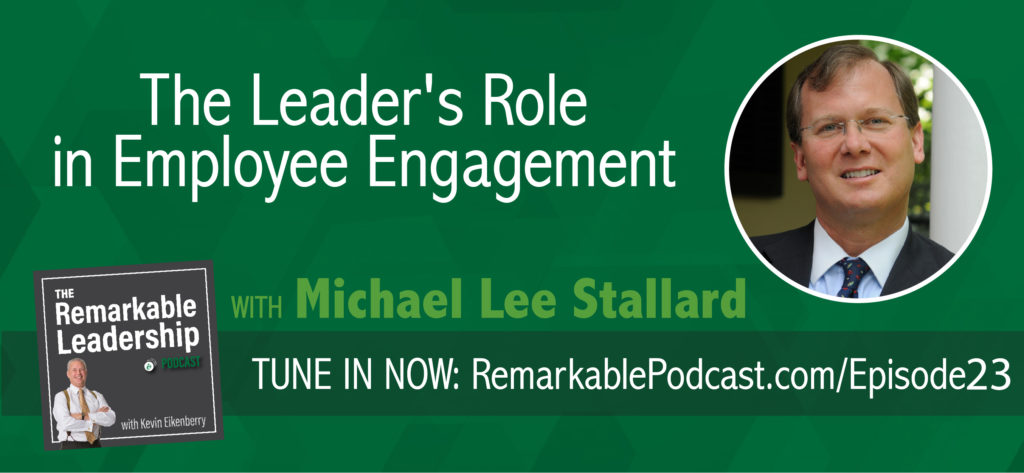 Are you encouraging engagement in your workplace? In today's episode of the Remarkable Leadership Podcast, co-founder of E Pluribus Partners and author of "Fired Up or Burned Out: How to Reignite Your Team's Passion, Creativity and Productivity," Michael Stallard discusses the leader's role in employee engagement, why culture is ESSENTIAL to the workplace, and how you can create engaging connections with your employees, regardless if your role in the workplace. Join us for this "engaging" discussion that might just change your thinking about employee engagement!
Listen Now
In this episode, you'll discover:
The state of employee engagement today.
How our work environment and culture has a biological effect on our level of engagement.
How our connections with those we work with daily can positively impact our stress receptors.
You don't have to be in upper management to create engaging connections with others around you.

– Michael Stallard
Remarkable Dialogue
Ask yourself: What type of attitudes, language, and behavior are you encouraging on your team?
Leave your answer in the comments below.
Additional Leadership Resources
Subscribe to the Podcast
Don't miss an episode! Subscribe to this podcast through the options below.
Leave a Review
If you liked this conversation, we'd be thrilled if you'd let others know by leaving a review on Apple Podcasts. Here's a quick guide for posting a review.

Join Our Facebook Group
Join our Facebook community to network with like-minded leaders, ask us questions, suggest guests and more. We welcome your wealth of experience and hope you will join us in sharing it with others on their leadership journey.
You can join the group here: facebook.com/groups/RemarkableLeadershipPodcast/