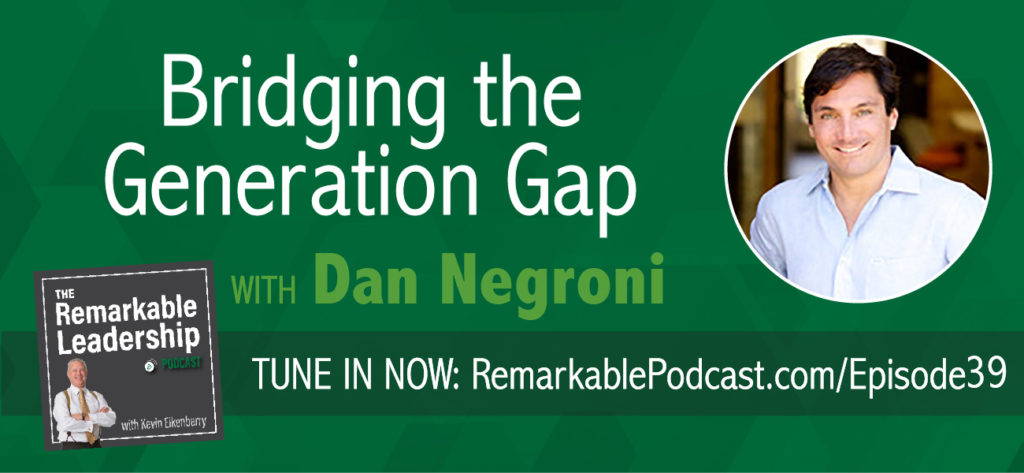 Per the Bureau of Labor Statistics, Millennials will be the largest generation in the workforce by the end of 2015. They bring a different bias and experience to the workplace and new ideas to relationships. Dan Negroni, founder of Launchbox and author of Chasing Relevance, discusses how to relate with our colleagues and bridge that generation gap and improve employee engagement.
In this episode, Dan looks at:
Millennials in the workplace.
Depolarizing the generation gap.
The best mentor I had was the mentor I looked in the mirror with.

– Dan Negroni
Remarkable Dialogue
Ask yourself: What are you going to do to create a relationship?
Leave your answer in the comments below.
Additional Leadership Resources
Subscribe to the Podcast
Don't miss an episode! Subscribe to this podcast through the options below.
Leave a Review
If you liked this conversation, we'd be thrilled if you'd let others know by leaving a review on Apple Podcasts. Here's a quick guide for posting a review.

Join Our Facebook Group
Join our Facebook community to network with like-minded leaders, ask us questions, suggest guests and more. We welcome your wealth of experience and hope you will join us in sharing it with others on their leadership journey.
You can join the group here: facebook.com/groups/RemarkableLeadershipPodcast/