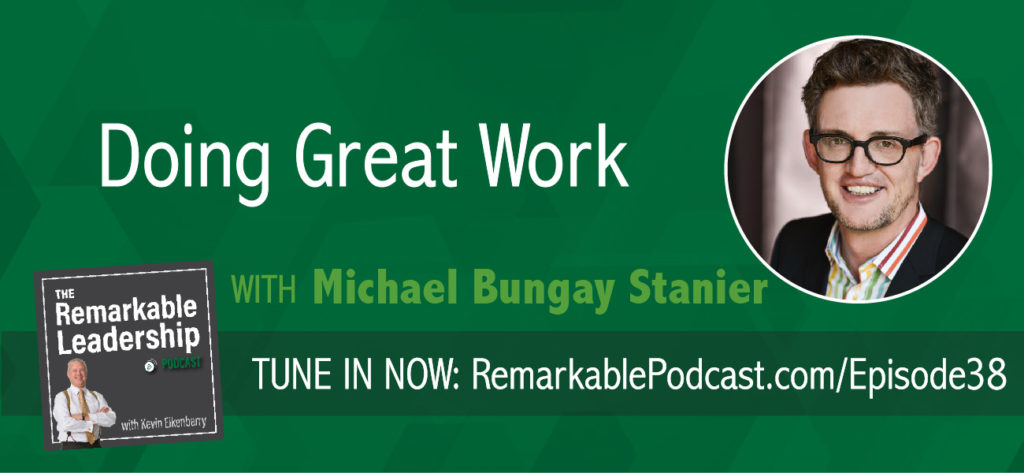 Great work has both impact and meaning, per Michael Bungay Stanier. Michael is the author of The Coaching Habit and Do More Great Work. He is also the founder and Senior Partner of Box of Crayons, a company that helps organizations all over the world do less Good Work and more Great Work. Michael and Kevin discuss the concept and core attributes of great work. Further, how a leader needs to be a catalyst for their team and ways to move the team towards more great work.
In this episode, you will learn:
Howto define great work.
Role of questions in coaching.
Challenges facing leaders today.
Stay curious a little bit longer. Rush to action and advice a little bit slower.

– Michael Bungay Stanier
Remarkable Dialogue
Ask yourself: How much of each type of work are you doing?
Leave your answer in the comments below.
Additional Leadership Resources
Subscribe to the Podcast
Don't miss an episode! Subscribe to this podcast through the options below.
Leave a Review
If you liked this conversation, we'd be thrilled if you'd let others know by leaving a review on Apple Podcasts. Here's a quick guide for posting a review.

Join Our Facebook Group
Join our Facebook community to network with like-minded leaders, ask us questions, suggest guests and more. We welcome your wealth of experience and hope you will join us in sharing it with others on their leadership journey.
You can join the group here: facebook.com/groups/RemarkableLeadershipPodcast/