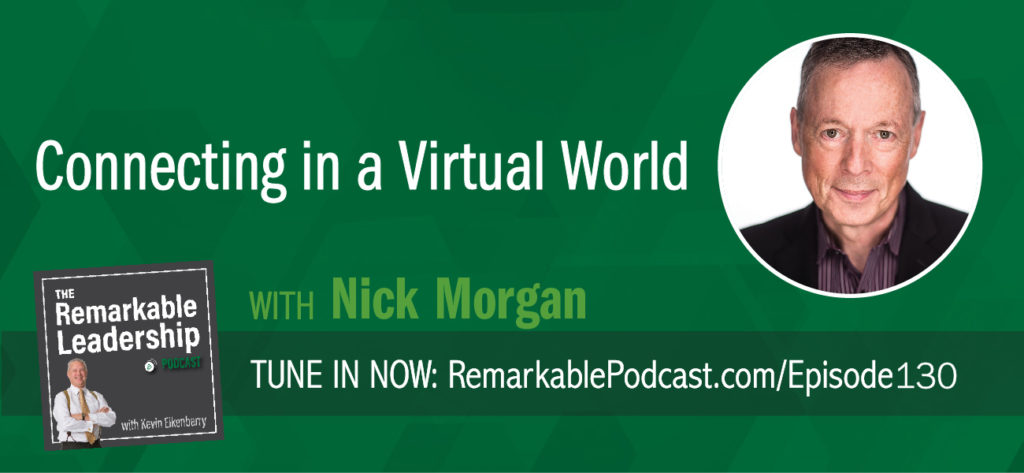 A recent study showed that 2/3 of US workers are disengaged and that number is close to 80% worldwide. This may be, in part, because we are living in a ½ virtual and a ½ face-to-face world. Nick Morgan is a communication coach and author. Nick and Kevin talk about his most recent book, Can You Hear Me? How to connect with people in a virtual world. Body language is important for communication, so what happens when you are working with folks around the globe? Nick explains that communication is an emotional exchange and delves into why online connections are fragile.
In this episode, Nick shares his thoughts about 1. Isolation in the workplace. 2. Things we lose in virtual communication. 3.Suggestions on how to use e-mail better.
Remarkable Dialogue
Ask yourself: Are you full connecting with your team?
Leave your answer in the comments below.
Additional Leadership Resources
Subscribe to the Podcast
Don't miss an episode! Subscribe to this podcast through the options below.
Leave a Review
If you liked this conversation, we'd be thrilled if you'd let others know by leaving a review on Apple Podcasts. Here's a quick guide for posting a review.

Join Our Facebook Group
Join our Facebook community to network with like-minded leaders, ask us questions, suggest guests and more. We welcome your wealth of experience and hope you will join us in sharing it with others on their leadership journey.
You can join the group here: facebook.com/groups/RemarkableLeadershipPodcast/