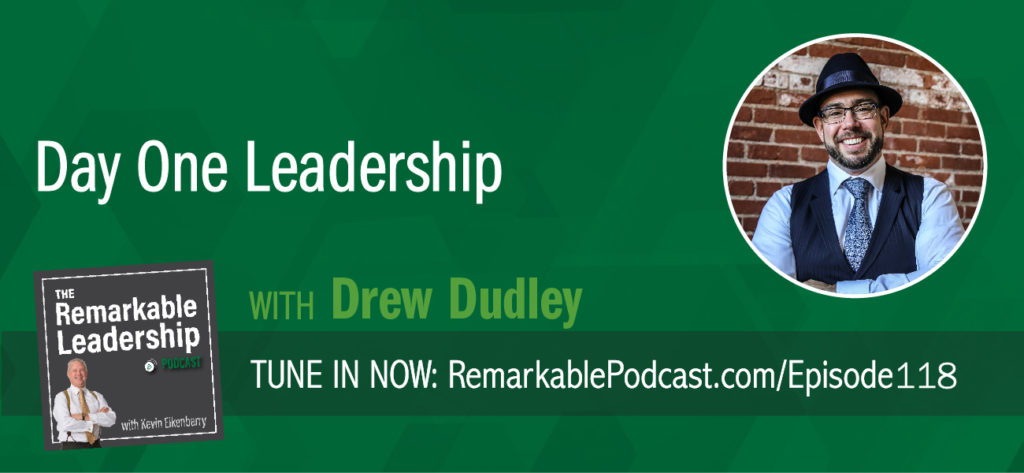 Drew Dudley believes we should consciously create moments of leadership. He is the founder of Day One Leadership and author of This Is Day One: A Practical Guide To Leadership That Matters. Drew joins Kevin to talk about leadership and personal growth. We need to celebrate moments of compassion and generosity every day; not just look at leadership in blocks of time. Regardless of your role, leadership moments happen all the time and begin at the same place for everyone, Day One.
In this episode, Drew explains 1. The Day One approach to leadership. 2. Core Values. 3. Planning for leadership. 4. The importance of failure.
Remarkable Dialogue
Ask yourself: Were you a leader TODAY?
Leave your answer in the comments below.
Additional Leadership Resources
Subscribe to the Podcast
Don't miss an episode! Subscribe to this podcast through the options below.
Leave a Review
If you liked this conversation, we'd be thrilled if you'd let others know by leaving a review on Apple Podcasts. Here's a quick guide for posting a review.

Join Our Facebook Group
Join our Facebook community to network with like-minded leaders, ask us questions, suggest guests and more. We welcome your wealth of experience and hope you will join us in sharing it with others on their leadership journey.
You can join the group here: facebook.com/groups/RemarkableLeadershipPodcast/