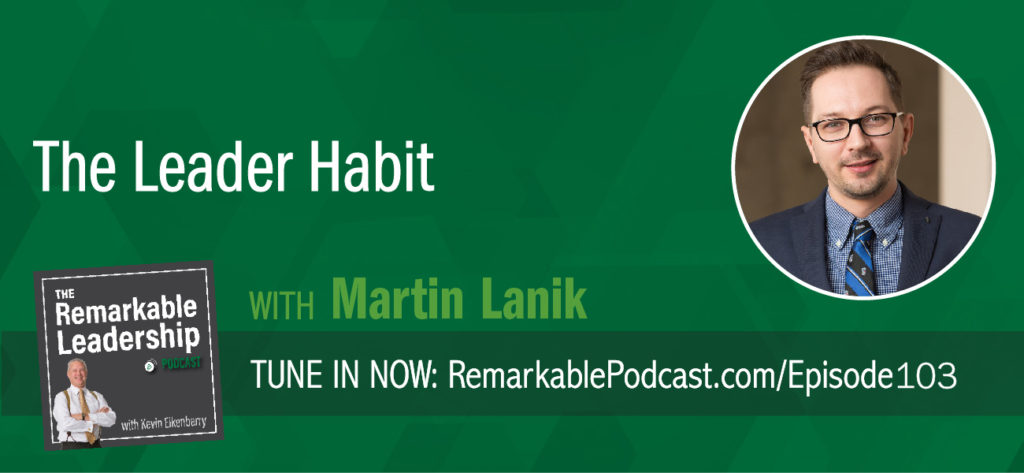 Martin Lanik a Ph.D. in industrial/organizational psychology and author of The Leader Habit had an a-ha moment years ago after he read a study that said more money was being spent on leadership development, yet there was less confidence in leading. As a scientist, he researched 800 leaders to come up with 22 core leadership skills and the micro-behaviors that leaders possess. In the Leader Habit, Martin shares 5-minute exercises that can turn anyone into an effective leader
In this episode, Martin and Kevin discuss:
How to take effective leadership skills and turn them into a habit.
An example of a 5-minute exercise.
Pinsight's online leadership development program.

Remarkable Dialogue
Ask yourself: What habit do you need/want to develop?
Leave your answer in the comments below.
Additional Leadership Resources
Subscribe to the Podcast
Don't miss an episode! Subscribe to this podcast through the options below.
Leave a Review
If you liked this conversation, we'd be thrilled if you'd let others know by leaving a review on Apple Podcasts. Here's a quick guide for posting a review.

Join Our Facebook Group
Join our Facebook community to network with like-minded leaders, ask us questions, suggest guests and more. We welcome your wealth of experience and hope you will join us in sharing it with others on their leadership journey.
You can join the group here: facebook.com/groups/RemarkableLeadershipPodcast/