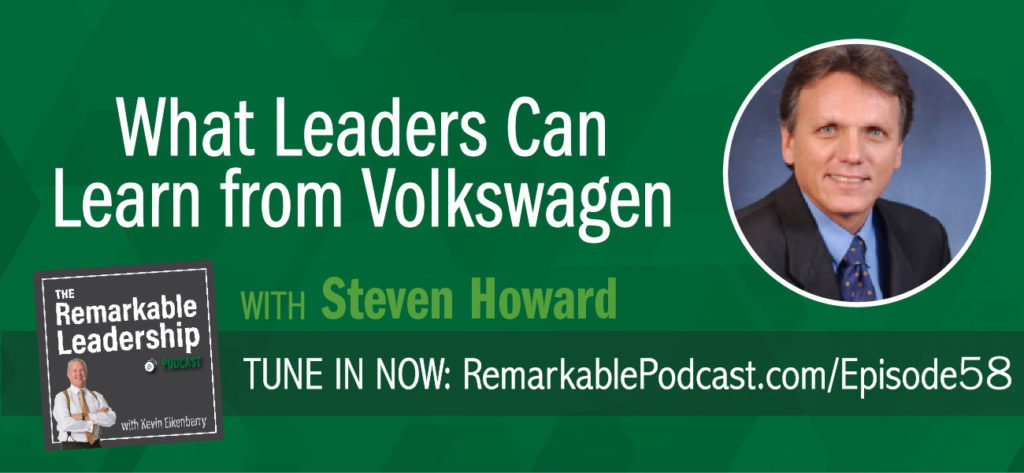 Leadership lessons surround us. Often, these are born out of conflict and/or crisis. Steven Howard, 18-time author, chat with Kevin about his latest book Leadership Lessons from the Volkswagen Saga, a story of deliberate corporate deception that has impacted the automaker's car brands, leadership structure, etc. They discuss cultures within organizations and consequences around said cultures; intended or not. Further, Steve also speaks to cross-cultural organizations, having lived ½ his life overseas. As leaders, we need to be sure to understand the differences of our counterparts.
In this episode, find out about:
Lessons from the Volkswagen Saga.
Cross-cultural leadership.
Insights to authorship.
Leaders need to understand the culture they are leading.

– Steven Howard
Remarkable Dialogue
Ask yourself: What culture are you creating?
Leave your answer in the comments below.
Additional Leadership Resources
Subscribe to the Podcast
Don't miss an episode! Subscribe to this podcast through the options below.
Leave a Review
If you liked this conversation, we'd be thrilled if you'd let others know by leaving a review on Apple Podcasts. Here's a quick guide for posting a review.

Join Our Facebook Group
Join our Facebook community to network with like-minded leaders, ask us questions, suggest guests and more. We welcome your wealth of experience and hope you will join us in sharing it with others on their leadership journey.
You can join the group here: facebook.com/groups/RemarkableLeadershipPodcast/