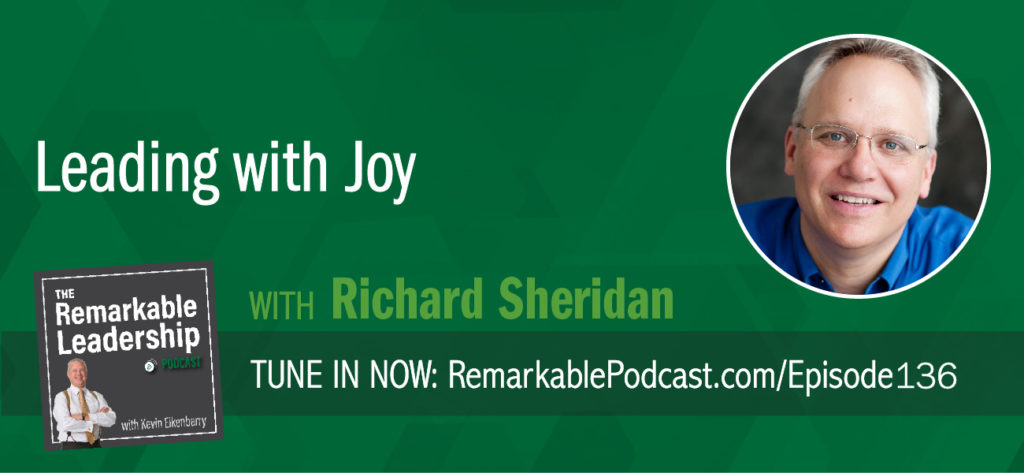 What difference does JOY make in the workplace and how can you find JOY in leading others? Richard Sheridan joins Kevin to discuss how a joyful culture can bring about business results. He is the CEO and co-founder of Menlo Innovations and author of Joy, Inc.: How We Built a Workplace People Love and his latest book, Chief Joy Officer: How Great Leaders Elevate Human Energy and Eliminate Fear. Richard recognizes that leadership occurs at every level within an organization and challenges us to become a better version each day. Further, the people we are leading need to know we are real and we support their growth through our vulnerability.
Richard also says that if you are in the Ann Arbor area and want a tour, just reach out.
In this episode learn more about 1. Joy and culture. 2. Loving and authentic leaders. 3. Importance of storytelling to leaders.
Remarkable Dialogue
Ask yourself: What do you value?
Leave your answer in the comments below.
Additional Leadership Resources
Subscribe to the Podcast
Don't miss an episode! Subscribe to this podcast through the options below.
Leave a Review
If you liked this conversation, we'd be thrilled if you'd let others know by leaving a review on Apple Podcasts. Here's a quick guide for posting a review.

Join Our Facebook Group
Join our Facebook community to network with like-minded leaders, ask us questions, suggest guests and more. We welcome your wealth of experience and hope you will join us in sharing it with others on their leadership journey.
You can join the group here: facebook.com/groups/RemarkableLeadershipPodcast/