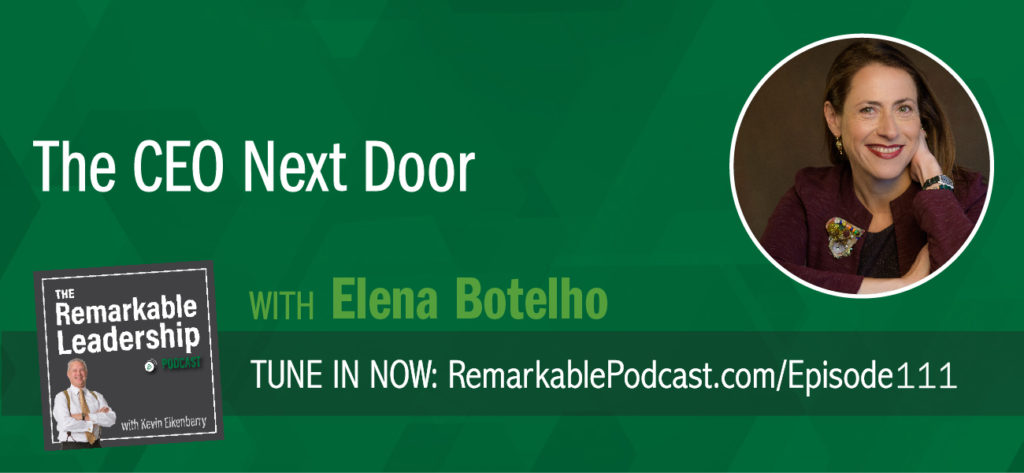 Through research, assessments, interviews, and personal experience Elena Botelho and Kim Powell found that there are 4 behaviors successful CEO's and leaders exhibit and share their work in a New York Times bestseller entitled The CEO Next Door: The 4 Behaviors That Transform Ordinary People into World-Class Leaders. Elena joins Kevin to discuss the behaviors and some of the myths about organizational leaders. For example, leaders are willing to make a decision and thereby willing to make mistakes. These are secrets of professional success that you can use at any stage of your career.
In this episode, Elena shares 1. Information about the CEO Genome Project. 2. Four behaviors of successful CEO's. 3. How to build relationships through routines.
Remarkable Dialogue
Ask yourself: What decision did you make today?
Leave your answer in the comments below.
Additional Leadership Resources
Subscribe to the Podcast
Don't miss an episode! Subscribe to this podcast through the options below.
Leave a Review
If you liked this conversation, we'd be thrilled if you'd let others know by leaving a review on Apple Podcasts. Here's a quick guide for posting a review.

Join Our Facebook Group
Join our Facebook community to network with like-minded leaders, ask us questions, suggest guests and more. We welcome your wealth of experience and hope you will join us in sharing it with others on their leadership journey.
You can join the group here: facebook.com/groups/RemarkableLeadershipPodcast/