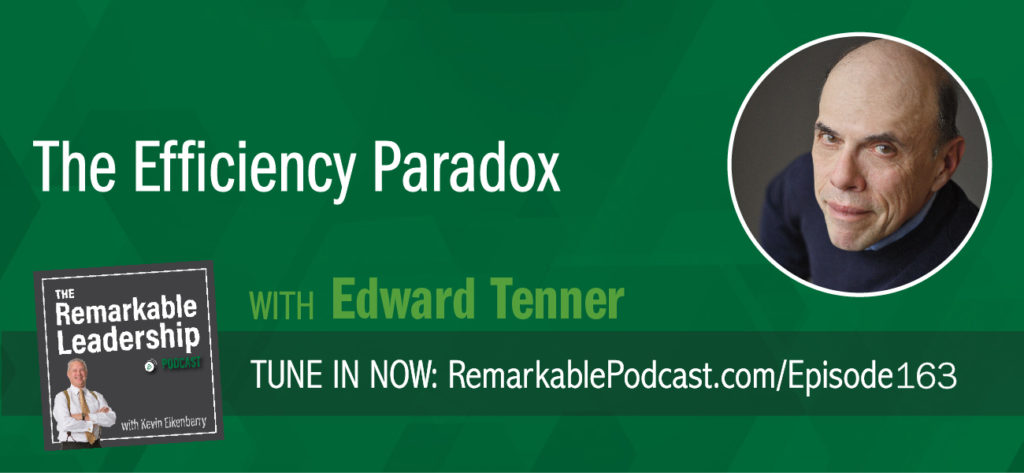 If we rely on algorithms and technology to make us more efficient, our own skills atrophy. Kevin sits down with Edward Tenner, author of Our Own Devices, Why Things Bite Back, and most recently The Efficiency Paradox: What Big Data Can't Do. As a historian of sorts, Edward tries to understand where we are today and asks the questions we need to think about the future. In The Efficiency Paradox, Edward looks at our technology boom and the downside of a good thing. Although our access to information and big data leads us to perform at higher and faster levels, can we be sure we are going in the right direction? Edward believes we need to find balance or we might not find the benefits of technology or we lost the benefits of human nature.
In this episode, Edward shares strategies to handle big data and what leaders should think about.

Remarkable Dialogue
Ask yourself: Are you relying on technology?
Leave your answer in the comments below.
Additional Leadership Resources
Subscribe to the Podcast
Don't miss an episode! Subscribe to this podcast through the options below.
Leave a Review
If you liked this conversation, we'd be thrilled if you'd let others know by leaving a review on Apple Podcasts. Here's a quick guide for posting a review.

Join Our Facebook Group
Join our Facebook community to network with like-minded leaders, ask us questions, suggest guests and more. We welcome your wealth of experience and hope you will join us in sharing it with others on their leadership journey.
You can join the group here: facebook.com/groups/RemarkableLeadershipPodcast/