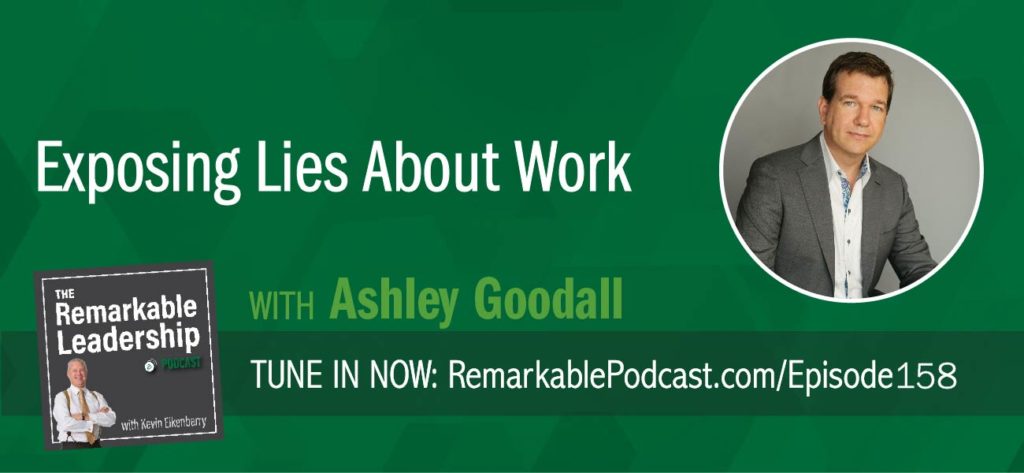 To do your best work, you need to know why organizationally and globally. Ashley Goodall is energized by thinking about the challenges of how we all do better work together. Ashley is the co-author of 9 Lies About Work with Marcus Buckingham. He and Kevin discuss some of these "lies" and why they may be uncomfortable. The theme throughout the lies is the context. When we spend too much time focusing on the system or the process, we lose the context. The meaning of our work should be evident and let your folks focus on the how.
In this episode, Ashley shares his thoughts about the following lies: 1. Cascading goals. 2. People need feedback. 3. Leadership is a thing.
Remarkable Dialogue
Ask yourself: Why should someone follow you?
Leave your answer in the comments below.
Additional Leadership Resources
Subscribe to the Podcast
Don't miss an episode! Subscribe to this podcast through the options below.
Leave a Review
If you liked this conversation, we'd be thrilled if you'd let others know by leaving a review on Apple Podcasts. Here's a quick guide for posting a review.

Join Our Facebook Group
Join our Facebook community to network with like-minded leaders, ask us questions, suggest guests and more. We welcome your wealth of experience and hope you will join us in sharing it with others on their leadership journey.
You can join the group here: facebook.com/groups/RemarkableLeadershipPodcast/