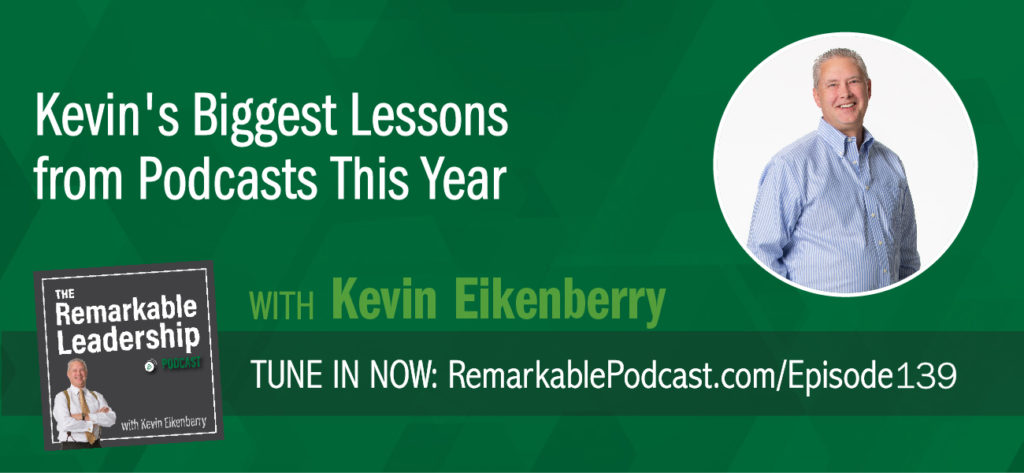 As we kick off 2019, Kevin steps back and reflects on 2018. His guests included a billionaire, Super Bowl winner, NFL Cheerleader, multiple best-selling authors including Seth Godin, Jeffrey Gittomer and Tom Peters who measure in millions of book sales. He shares some general observations from the interviews, as well as those "nuggets" he has applied in both his personal and professional life.
Let us know what you have learned. What is your "Now What"?
Episodes
Remarkable Dialogue
Ask yourself: Now What? What action are you going to take?
Leave your answer in the comments below.
Additional Leadership Resources
Get our free report: The Secrets of Becoming a Remarkable Leader
Sign up for our free video training series, 13 Days to Remarkable Leadership.
Get your free copy of my inspiring e-book, 101 Ways to Unleash Your Potential.
Subscribe to the Podcast
Don't miss an episode! Subscribe to this podcast through the options below.
Leave a Review
If you liked this conversation, we'd be thrilled if you'd let others know by leaving a review on Apple Podcasts. Here's a quick guide for posting a review.

Join Our Facebook Group
Join our Facebook community to network with like-minded leaders, ask us questions, suggest guests and more. We welcome your wealth of experience and hope you will join us in sharing it with others on their leadership journey.
You can join the group here: facebook.com/groups/RemarkableLeadershipPodcast/