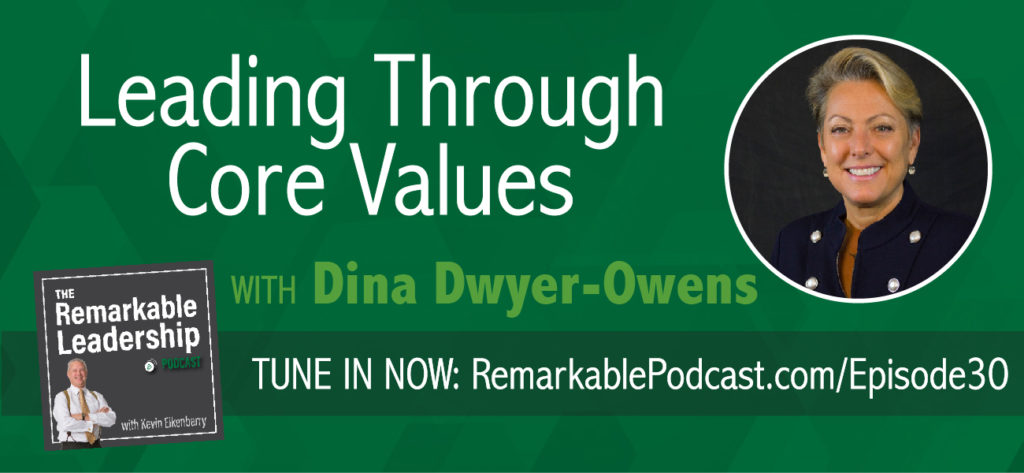 Like most companies, the Dwyer Group has an official mission statement and vision; however, unlike most companies, they also have a Code of Values that each employee is urged to know and follow by heart. (Associates even carry a Code of Values card so that they think about them at all times!) In this episode, Dina Dwyer-Owens talks about how putting company culture and values front and center translated to massive success, growing a small, one brand business into a national success with 11 service-based organizations with more than 2,500 franchises in 11 countries.
In this episode, you'll discover:
How to keep culture and values in tact when when key people/leaders leave the organization.
How to create a system around the values of your organization.
How to get intentional about connecting your (and your team's) goals to the company values.
We must re-earn our positions every day and every way.

– Dina Dwyer-Owens
Remarkable Dialogue
Ask yourself: What can you do to be a "cheerleader" for your company values and culture?
Leave your answer in the comments below.
Additional Leadership Resources
Subscribe to the Podcast
Don't miss an episode! Subscribe to this podcast through the options below.
Leave a Review
If you liked this conversation, we'd be thrilled if you'd let others know by leaving a review on Apple Podcasts. Here's a quick guide for posting a review.

Join Our Facebook Group
Join our Facebook community to network with like-minded leaders, ask us questions, suggest guests and more. We welcome your wealth of experience and hope you will join us in sharing it with others on their leadership journey.
You can join the group here: facebook.com/groups/RemarkableLeadershipPodcast/