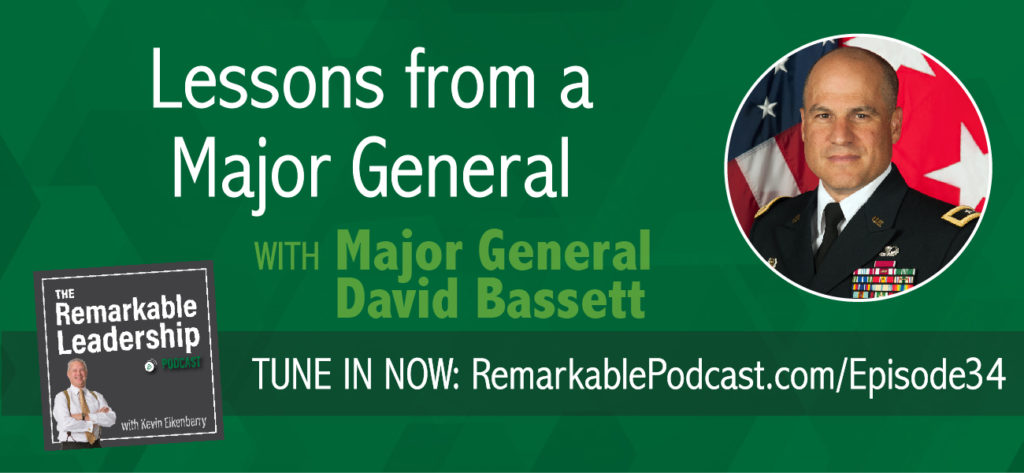 Leadership is leadership, according to Major General David Bassett, Program Executive Officer for Ground Combat Systems. In today's episode, Major General Bassett shares insight to leading and managing high visibility and high dollar programs. He challenges us to understand our role within the organization and recognize that if we have to use our title/position to get what we want we haven't properly instilled the values of the organization.
In this episode, you'll learn:
Ideas about transitioning roles, especially as they relate to leadership.
Lessons about working with a broad and diverse group of stakeholders.
Military misconceptions.
If you promise to overcommunicate, I promise to underreact.

– Major General David Bassett
Remarkable Dialogue
Ask yourself: How are you going to create a more compelling why?
Leave your answer in the comments below.
Additional Leadership Resources
Subscribe to the Podcast
Don't miss an episode! Subscribe to this podcast through the options below.
Leave a Review
If you liked this conversation, we'd be thrilled if you'd let others know by leaving a review on Apple Podcasts. Here's a quick guide for posting a review.

Join Our Facebook Group
Join our Facebook community to network with like-minded leaders, ask us questions, suggest guests and more. We welcome your wealth of experience and hope you will join us in sharing it with others on their leadership journey.
You can join the group here: facebook.com/groups/RemarkableLeadershipPodcast/