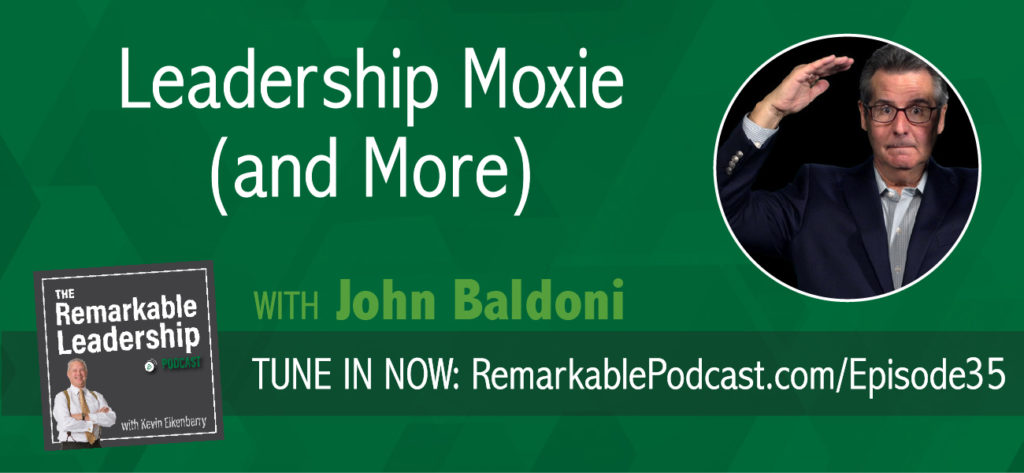 "You've got moxie, kid". We hear it in the moves but what does it mean? Join Kevin and John Baldoni, author of MOXIE: The Secret of Bold and Gusty Leadership (among other books), as they discuss gumption, guts and the resilience to pursue. Leaders need to be open to the learning process and not ashamed of defeat. The question is what are you going to do next? How do you take those lessons and bring you team together to thrive? If you don't have self-doubt, you may be delusional.
In this episode, John and Kevin discuss:
The power of self-doubt.
The importance of set-backs.
Ideas to influence from the middle.
Self-doubt can be a good enabler.

– John Baldoni
Remarkable Dialogue
Ask yourself: How does moxie influence what you are doing with your team?
Leave your answer in the comments below.
Additional Leadership Resources
Subscribe to the Podcast
Don't miss an episode! Subscribe to this podcast through the options below.
Leave a Review
If you liked this conversation, we'd be thrilled if you'd let others know by leaving a review on Apple Podcasts. Here's a quick guide for posting a review.

Join Our Facebook Group
Join our Facebook community to network with like-minded leaders, ask us questions, suggest guests and more. We welcome your wealth of experience and hope you will join us in sharing it with others on their leadership journey.
You can join the group here: facebook.com/groups/RemarkableLeadershipPodcast/