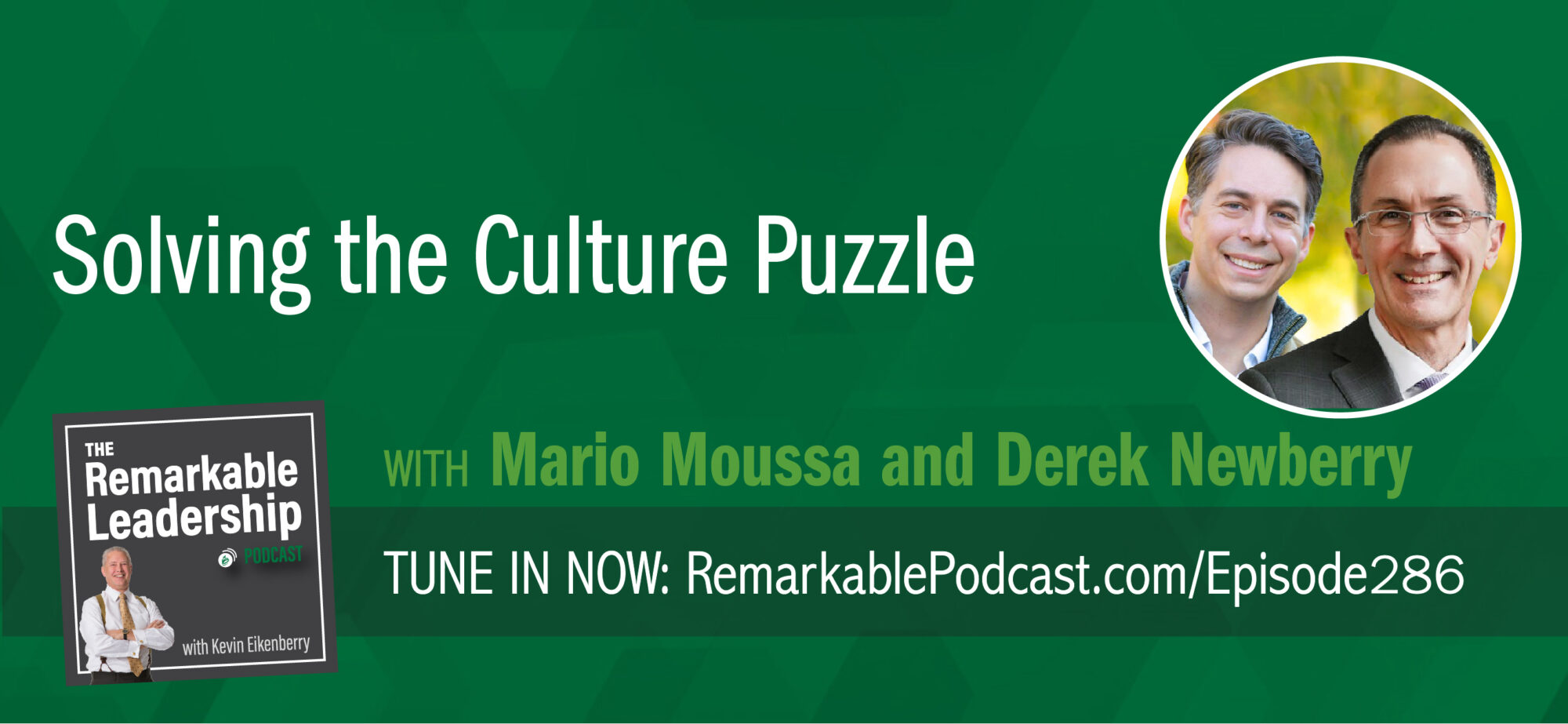 What is the culture of your organization? It's a fair question and can be puzzling. We attribute an unengaged workforce or misalignment of values to the culture. Yet, we seem to fall short of building the culture we want. Mario Moussa and Derek Newberry are the authors of The Culture Puzzle: Harnessing the Forces That Drive Your Organization's Success. They share with Kevin that, too often, we think of culture as an afterthought. We share our vision, build the team, and then create the culture. However, culture happens when you put the people together. Culture is about the stories. Culture is dynamic and fluid and can change overnight (just think back to March 2020). They share the four forces that drive culture: vision, interest, habit, and innovation. They also recognize that anyone can influence culture.
In this episode, Mario and Derek discuss
Anthropology and organizational culture.
Misconceptions about culture.
4 forces that drive culture.
Thoughts about culture in a post pandemic world.
Remarkable Dialogue
Ask yourself: Are you making culture part of your job?
Leave your answer in the comments below.
This episode is brought to you by…
From Manager to Remarkable Leader, Kevin's Flagship workshop based on his proven leadership model.

Learn more
Additional Leadership Resources
Follow the Podcast
Don't miss an episode! Follow this podcast through the options below.
Leave a Review
If you liked this conversation, we'd be thrilled if you'd let others know by leaving a review on Apple Podcasts. Here's a quick guide for posting a review.

Join Our Facebook Group
Join our Facebook community to network with like-minded leaders, ask us questions, suggest guests and more. We welcome your wealth of experience and hope you will join us in sharing it with others on their leadership journey.
You can join the group here: facebook.com/groups/RemarkableLeadershipPodcast/