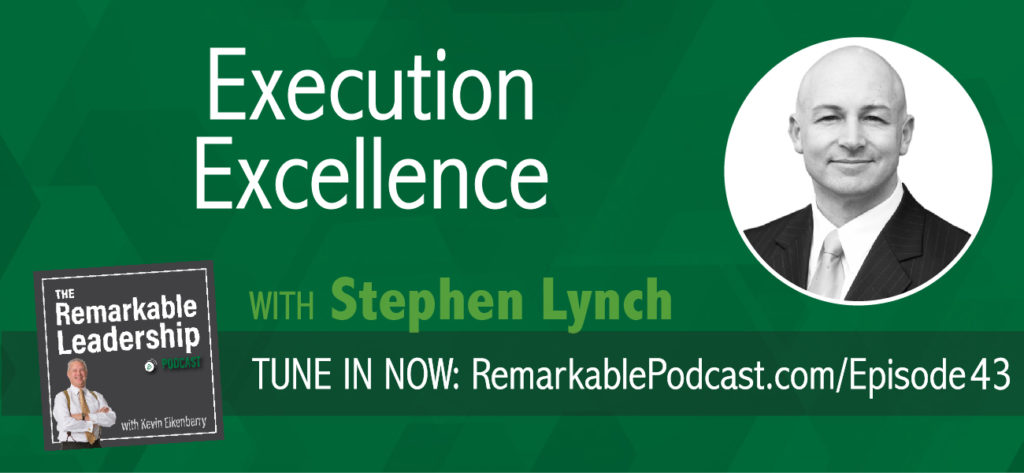 It's great to have goals and they will most likely fail without execution, according to Stephen Lynch. Stephen is the Head of Strategy and Consulting at RESULTS.com, a business productivity software platform. Stephen and Kevin discuss key elements for successful execution and how to find that "bigness balance". Stephen also advises on how to create a core value statement, which can help lead to accountability.
In this episode, you will learn:
The importance of core values.
What is a strategy?
How to use metrics to your advantage.
You need dual vision. One eye looking at the microscope. One eye looking at the telescope.

– Stephen Lynch
Remarkable Dialogue
Ask yourself: What are your core values?
Leave your answer in the comments below.
Additional Leadership Resources
Subscribe to the Podcast
Don't miss an episode! Subscribe to this podcast through the options below.
Leave a Review
If you liked this conversation, we'd be thrilled if you'd let others know by leaving a review on Apple Podcasts. Here's a quick guide for posting a review.

Join Our Facebook Group
Join our Facebook community to network with like-minded leaders, ask us questions, suggest guests and more. We welcome your wealth of experience and hope you will join us in sharing it with others on their leadership journey.
You can join the group here: facebook.com/groups/RemarkableLeadershipPodcast/