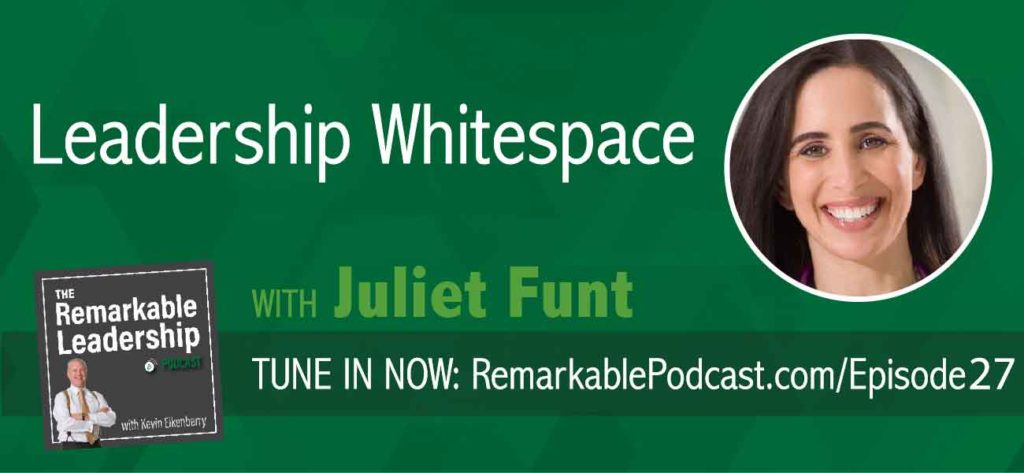 We're all living in the "Age of Overload," in which everyone deals with the epidemic of "busyness," but what can we do about it? Join Juliet Funt, owner and founder of WhiteSpace at Work, as she offers constructive advice and tips to become more productive and successful in both your work and home life.
Listen Now
In this episode, you'll discover:
"Strategic Pause," a.k.a. "WhiteSpace," why it's important, and its impact on your overall focus.
The hurdles you'll experience before getting into the flow of "WhiteSpace," and how to overcome those hurdles to become more successful.
"Being Jane Goodall," and how its impact will also you to build an organization culture change to the problem of busyness.
Take 5-15 seconds of WhiteSpace before every important meeting, phone call or conversation to focus on the task, situation and people at-hand.

– Juliet Funt
Remarkable Dialogue
Ask yourself: What thoughts deserve my full attention today?
Leave your answer in the comments below.
Additional Leadership Resources
Subscribe to the Podcast
Don't miss an episode! Subscribe to this podcast through the options below.
Leave a Review
If you liked this conversation, we'd be thrilled if you'd let others know by leaving a review on Apple Podcasts. Here's a quick guide for posting a review.

Join Our Facebook Group
Join our Facebook community to network with like-minded leaders, ask us questions, suggest guests and more. We welcome your wealth of experience and hope you will join us in sharing it with others on their leadership journey.
You can join the group here: facebook.com/groups/RemarkableLeadershipPodcast/